Alsterhaus —
The History of our Store
When the Hermann Tietz department store opened its doors on 24 April 1912, it was already known all over town. The previous Tietz store had excited the people of Hamburg with its bright splendour and wide range of products. The new store on the Jungfernstieg was even more spectacular. There were extravagant French hats, custom-made dresses, parasols made from pure silk, oriental carpets, books and much more there. Goodies hitherto unknown to most customers also took centre stage. They now had access to a refreshment room, a study and a reading room, as well as a spectacular food hall with fresh meat, river and salt-water fish, fruits and delicacies from all over the world. As such, the Hermann Tietz department store quickly became an institution. Its high standards of quality were to endure way beyond 1936, the year in which it was given the name »Alsterhaus«.
Although the architecture of Alsterhaus emerged from both World Wars almost unscathed, the Tietz family had to flee abroad like many other Jewish families. Their department store was systematically driven into ruin by the economic policies of the Nazi regime. After the war, the heirs agreed on a settlement with the new owner of the Hertie group. Alsterhaus profited from the economic miracle of the 1950s and reclaimed its leading position as an upscale department store. The retail space was increased to 19,000 square metres in the 1960s; the interior design was completely revamped in 1983. The crowning glory of celebrations for the store's 75th anniversary was the visit by Prince Charles and Princess Diana.
Planning for further renovations of the store began shortly after the turn of the millennium. In November 2004, the new façade that formed part of the renovations was unveiled with a window among the highest in Germany. Alsterhaus celebrated its reopening for the second time a year later. Since then, it has continuously involved as an international department store. Today, it covers 24,000 square metres in an exclusive atmosphere comprising a historic structure and modern interior design and in the course of the renovation work started in 2016, is once again taking on a radical new structure. As ever, guests from near and far are treated to that proven blend of high-quality products and friendly service. Alsterhaus is a piece of Hamburg – since more than a century ago and into the future.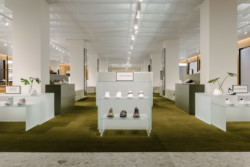 2019-2020
Opening of the New Men's Designer Department on the 1st floor (including Burberry, Palm Angels and Versace)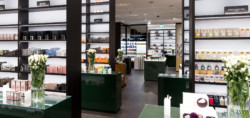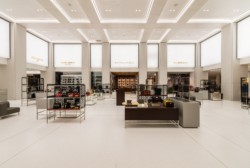 2016
Start of several years of renovations; the new Accessories Hall opens on the Ground Floor
2015
Acquisition of majority shares in The KaDeWe Group by the Central Group/La Rinascente with 50.1%
2014
Acquisition of majority shares in Karstadt Premium GmbH by Signa Holding GmbH, led by René Benko; renaming of stores belonging to »The KaDeWe Group«
24 APRIL 2012
100th anniversary
2010
Acquisition of the Karstadt group by Nicolas Berggruen Holdings GmbH; further development of Premium GmbH with KaDeWe, Alsterhaus and Oberpollinger
2009
Food Boulevard opens on the Fourth Floor
2008
Accessories department opens on the Ground Floor
2007
Redesign of the Beauty department on the Ground Floor based on the model of KaDeWe
2006
Amalgamation of the Karstadt stores, KaDeWe, Alsterhaus and Oberpollinger in Karstadt Premium GmbH
2005
Completion and reopening of 24,000 square metres; introduction of international fashion brands
2003
Decision made to carry out renovations
1994
Acquisition of the Hertie group by the Karstadt group
24 April 1987
Visit by Their Royal Highnesses Prince Charles and Princess Diana for Alsterhaus's 75th anniversary
1983
Total refurbishment: renovation costing 50 million Deutschmark
1972
Acquisition of the Dyckhoff store; renovation and enlargement to 19,000 square metres of retail space for 40 million Deutschmark
1948
Acquisition by the Hertie group; business owner, Georg Karg, moves into Alsterhaus and uses it as a base from which to organise the rebuilding of Hertie
1936
Company reorganisation and restructure; renamed to »Alsterhaus«
1933
Forced sale of the Hertie group
24 April 1912
Reopening of the Hermann Tietz department store at Jungfernstieg 16–20