MONCLER
SOFT AS DOWN
Moncler's down jackets were originally designed for mountainous terrain (founder René Ramillon named the brand after his Alpine hometown). But they've long been worn in a variety of settings, and this winter they're available in tricolor. Grab them at the Moncler pop-up store from September 2019 to February 2020.
@MONCLER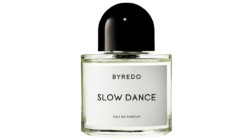 BYREDO
DOWN TEMPO
The school disco… the prom… a newlywed couple's first dance… the slow dance has a long and noble history. Which is why Swedish perfume brand Byredo, with its distinctive spherical lids, has dedicated their new scent to being head over heels in love.
@OFFICIALBYREDO
DIPTYQUE
WAX WANES
First it was scented candles, now it's scented accessories. Diptyque's latest offerings include a braided bracelet that releases perfume with every movement of the hand, a brooch with a perfumed ceramic core, and fragrant satin stickers for the skin.
@DIPTYQUE
HIGHSNOBIETY
BAUHAUS AT 100
As the Bauhaus celebrates its centenary, Highsnobiety is honouring its spirit with a fashion collection. Together with the Berlin Bauhaus Archive/Museum for Design, the lifestyle brand, which began as a streetwear blog, has designed T-shirts, sweaters and other pieces in Bauhaus-inspired colours. From 25 September to 2 October they are available in the pop-up shops in Oberpollinger, KaDeWe and Alsterhaus, as well as from highsnobiety.com/shop. From 6 September 2019 to 27 January 2020, the exhibition Original Bauhaus can be seen at the Berlinische Galerie.
@highsnobiety
JohnSTONs OF ELGIN
Scottish Wool
The Elgin Mill in northern Scotland has been spinning fine wool and cashmere since 1797. Its new winter collection harks back to the golden age of travel, the 1920s and 1930s.
@johnstonsofelgin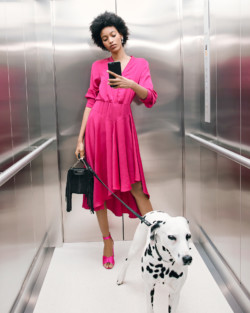 Maje
DOG DAYS
A self-portrait with a dog is almost like a family portrait. Under the guidance of the photographer Kristin-Lee Moolman, models photographed themselves for the Paris label Maje. Also in the frame are checked capes and patent leather jackets, smart suits, fringed pockets and waisted dresses in pink.
Click here for the competition.
@majeparis
OPINION
Tear Down This WAll
NIKOLAS FEIREISS ON
WALLS COMING DOWN
Thirty years ago, the French Revolution celebrated its 200th anniversary. Madonna sang Express Yourself. And in Berlin, the Wall came tumbling down. Younger Germans can hardly imagine how much life has changed since then. Especially in Berlin. The Wall City has morphed into a fashionable metropolis. Nor does the rest of the region bear much witness to former divisions. A 'green belt', a biotope for animals and plants, now covers some of the area where tripwire and automatic guns used to separate family members. The green belt shows that, whatever obstacles man imposes, life always comes back. Walls can only stop the flow of history for so long. Meanwhile views have changed, not just socially and politically, but aesthetically. Nobody is going to let their self-determined life be taken from them any more. Today fashion is first and foremost an expression of individual freedom. Not a dictatorship of trends, but an offer of possibilities. We have the choice. Let's use it.