In the rose garden.
A designer with green fingers

Dries Van Noten has an instinctive feel for the world of plants. The Belgian designer, who is part of the Antwerp Six group and founded his company in 1986, is a renowned expert in opulent floral prints. He transforms the world of botanicals into true works of art. Van Noten is also known for his green fingers. During his free time, he enjoys gardening at his historic property close to Antwerp. His favourite way to relax is by mowing the lawn.
Mr Van Noten, where does your love of all things plants come from?
From my father who loved roses. As a child, I had to help him out in the garden, something I hated at the time! My interest in gardening developed much later, when I was around 35 years old. Now it brings me clarity and relaxation. I love my plants and they mean a great deal to me.

What is growing in your garden this spring?
Roses and peonies.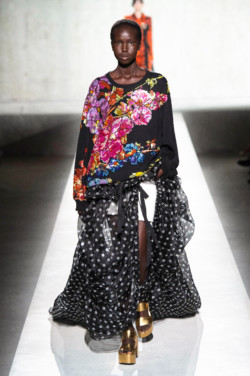 Many people associate Belgian fashion with melancholy minimalism. How did you come to favour such colourful aesthetics?
I grew up in Antwerp and still live there. Belgium embodies the notion of experimentation, thanks to its history and geography. Perhaps the duality in my designs stems from this. I try to find the right balance between the contrasts. In my opinion, fashion should be a mirror reflection of the world. And I am an optimist!
Does Antwerp influence your style?
The city definitely has a particular creative pull. It is international yet at the same time miles away from the craziness of big metropolises. The people who live here are very discreet. They shy away from flaunting themselves.

How do you stop your floral prints from appearing too romantic?
That comes down to the collection. The way I approach flowers is constantly changing. Both in my work and in my garden. Flowers which blossom in spring look completely different later in summer.

What was the role of the photos of flowers from your own garden which you printed on items of clothing last year?
I wanted to create an alien and fragile beauty. More realistic flowers, not the typically sweet romance. That's why we photographed flowers and twigs in the garden in October when the season was already over. I came up with the idea of showcasing the passing of time and the transience of beauty.

You recently collaborated with your designer colleague, Christian Lacroix who designed elaborately patterned fashion back in the nineties.
My aim was to bring fun to the collection. We have lost sight of that a little in the fashion world. The joy of making yourself beautiful, playful elements, combining different influences – it was important for me to bring that back. The haute couture of the eighties and nineties was an important starting point for me. And so we inevitably veered towards Christian. I knew that we could work with him to create a collection packed with emotions.

That's why flowers are now paired with animal prints.
It was great fun to bring these things together. I wanted to see them from a different perspective.

Yves Saint Laurent and Christian Dior also owned famous gardens. What is it that links gardeners to fashion?
I can't speak for those men but it helps me personally to stay grounded because the world of fashion is very hectic. You have no control in the garden. You cannot influence the weather or the direction the flowers grow in. This lack of certainty relaxes me.

Will flowers ever be out of fashion?
Never! Never ever.