For hand and foot.
Bags, shoes and TLC for your tech
Patrizia PEPE
In 1993 Patrizia Bambi founded a fashion label in Florence. Although blessed with a lovely surname, the designer came up with a pseudonym, and Patrizia Pepe was born. The label produces leather jackets with rivets, asymmetric dresses, check suits and handbags in silver metallic. Bag clasps are shaped in Pepe's trademark bowtie design.
@Patrizia Pepe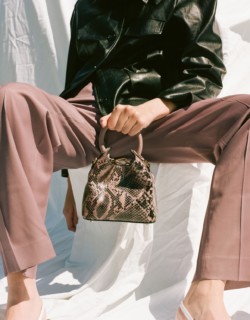 ELLEME
Paris label Elleme ("elle aime") designs bags made of soft leather. Soft beige tones figure large.
@ELLEME
Flattered
All the shoes from the Stockholm label are handmade in the southeast of Spain. The shapes are feminine, the materials elegant. Say hello to patent leather and crocodile patterns in honey tones and claret with a touch of light blue. The most striking detail of the collection is the oyster, a pearl in amorphous gold detail attached to the tip of the shoe.
@Flattered
STAND
A true statement piece, the pink synthetic fur tote bag by Stand conveys a lot more than its contents. The Swedish label clearly isn't a fan of minimalism, preferring to experiment with unorthodox techniques, linen decoration and leather patchwork and prints in technicolor.
@STANDSTUDIO.OFFICIAL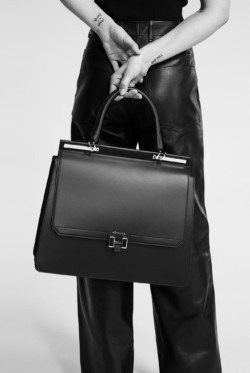 Maison Hēroïne
Marta Vitali used to design handbags for Armani. Today she combines elegance and practical portability at Maison Hēroïne. Her bags are designed to accommodate laptops, notebooks and tablets, with padded interior compartments for extra protection.
@Maisonheroine