BREAK A SWEAT, 
FEEL THE BEATS
Looking for a new fitness regime? Dancer Minh-Thu Nguyen recommends breakletics, an all-round workout set to hip hop music. There are a few courses on offer in Berlin and online.
Athleisure Wear, Sneakers and Bags by Adidas by Stella McCartney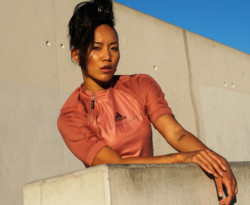 Running Shirt
79,90 Euro

Dancing has been her life ever since she could think. Although Minh-Thu Nguyen has only just turned 24, she already has several stints in LA and Mexico City under her belt. She studies fashion management in Berlin and works as a fitness trainer. Her street style looks contribute to her overall image, with Adidas recently appointing her its brand ambassador.
Minh-Thu, how did you get involved in dance?
When I was a child I wanted to take ballet classes but my parents couldn't afford it. So I danced at home in front of the mirror until at some point I was able to try doing it with other people at a youth centre. When I was 15, I started delivering catalogues to pay for my first dance classes. I had to promise my parents to keep getting good grades or otherwise I'd have to stop.
What do hip hop and breakdancing mean to you?
I love hip hop and everything that comes with it. I think breakdancing is fascinating because it shows you what the human body is capable of. I like to be active with my body and learn new moves. I've been inspired by hip hop culture in terms of fashion too. Even when I was a child I'd always wear pieces belonging to my parents because I wanted to wear loose clothing.
How did you get to know about breakletics?
Two years ago, I met the inventor of breakletics, today my friend, Peter Sowinski. He asked me back then if I'd be interested in taking part in a video shoot.
What's special about this type of fitness?
I was never interested in fitness training before since I found it boring. What's special about breakletics is the connection between fitness and breakdancing and how you do the exercises to hip hop beats. It's an all-body workout that reinforces your agility, strength, endurance and coordination and it's designed so that anyone from youths to adults can do it.
Where can people try out the exercises?
The community keeps getting bigger. Now there are courses in Japan, Argentina, Switzerland and many other countries. Peter and I teach in Berlin at the Adidas Runbase and Flying Steps Academy. We also offer an app with various workouts.
How frequently and for how long should you train?
It depends what your goal is. While some people want to lose weight, others just want to balance out their full-time careers. Then there are also people who see sport as a passion and don't even check the time to see how long they've been training for.
Is what you wear during a workout important?
You can wear anything, or nothing, when exercising. What's important is that you feel good. I personally prefer to wear a bralet and leggings, but then there's also days when I just pinch a t-shirt from my boyfriend.
What's changed for you through this new sport?
A lot. I've become much stronger, both mentally and physically. I feel more confident, happy and motivated.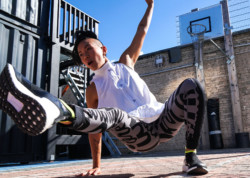 Tank Top
59,90 Euro
Leggings und Rucksack
99,90 und 119 Euro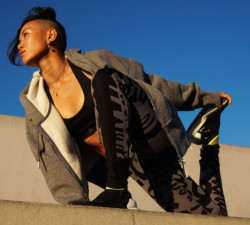 Sweatjacke, Leggings und Sneaker
119 Euro, 99,90 Euro und 249 Euro
Top
149 Euro