Gala Christmas Shopping.
Only a few minutes until midnight.
As you know, Christmas always comes faster than you think. With champagne and music the guests of the Gala Christmas Shopping Night could buy some extra early presents. They could try out nail bars and taste Courvoisier cognac or Belgian chocolate. The Alsterhaus remained open that evening until midnight. Around 2,000 visitors attended the exclusive pre-Christmas shopping, including Boris Entrup and Isabel Edvardsson.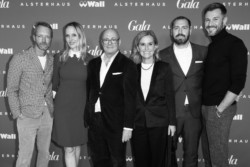 ©SEBASTIAN REUTER/GETTY IMAGES FOR GALA (4)