GALACTIC GOODNESS
Special needs call for special measures. The 111Skin skincare products basically had to prove themselves in outer space first before their developer, Dr Yannis Alexandrides, would release them for sale on earth.
Dave Bowman, the astronaut in Stanley Kubrick's '2001: A Space Odyssey' who, in addition to having to transport the Discovery One to Jupiter, simultaneously had to fight against a supercomputer, would have done himself a favour had he used 111Skin products to treat those wrinkles that stress made ever deeper as the film wore on. The monolithic black jars would have been a good fit for the film's background and, in the end, were even tested by live astronauts. While this may sound like science fiction, it is in keeping with a scientific finding: what protects the skin against the extreme conditions of outer space also produces the same, useful results here on earth. The brand's founder, Dr Yannis Alexandrides, is pursuing this research.
Dr Alexandrides, you've worked as a cosmetic surgeon for more than 20 years. How has your career inspired your brand?
111Skin was originally developed to support the post-operative healing process for our patients' skin. These days we concentrate on pioneering solutions for special skincare needs, an endeavour which has created valuable results. My background in medicine means that I watch the healing process for more than just aesthetic reasons too. I strive to develop formulas that are effective down to the skin's deeper layers and achieve long-lasting results.
What's the meaning of the 111 in 111Skin?
I took over an existing practice when I moved to London. Its address was 111 Harley Street. This place has a significant connection with our brand heritage and global image. I found it important that we maintain this in our name.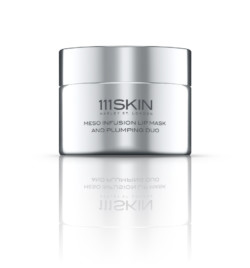 What drove you to develop your own line of products?
As a cosmetic surgeon with years of experience, it was becoming increasingly difficult for me to find products that I could offer my patients after surgery. This difficulty pushed me to do a lot more work with ingredients that weren't yet on the market. That in turn marked the birth of 111Skin.
How do you work on new products?
The process often begins in my clinic with patients asking about something for which there isn't a suitable product available yet. Then we'll sound out what's possible, research ingredients and look for innovations that can provide a response to the relevant need. At the end we'll put the result to the test and examine it thoroughly.
Your products have been tested by astronauts. What do the conditions in space reveal about the protection our skin needs?
In space, our skin is exposed to an extremely high degree of cosmic radiation and pollution – the same factors that are also responsible for premature ageing on earth. That's why astronauts need products that have medical ingredients to protect them. So I drew inspiration from space science to ensure that my formulas truly heal and repair the skin.
Black diamonds are also included among your ingredients.
We use black diamonds in our 'Intensive Collection'. Diamond powder makes it easier for active ingredients to penetrate into the skin and deliver extraordinarily strong results. It's barely used in skincare. At 111Skin, we use only high-grade diamond powder so that we can achieve the best possible effect.
What prompted you to also target men with your range?
Men have very similar problems and needs when it comes to skincare, even though products are still marketed primarily to women. I've seen a strong increase in male clients at my clinic. We've made it our task to develop gender-neutral skincare products which can be used by both men and women equally. Although most men aren't interested in brightening their skin or prepping their face before applying make-up, there are many who occasionally want a fresh, balanced and vital skin tone. The 'Regenerative Collection' is the perfect answer to these needs.
Are you already working on new products?
We are permanently working to improve and add to our offering. This year there are still a number of exciting product launches to come. For instance, we've just introduced our 'Sub-Zero De-Puffing Eye Mask'. This is a cooling, under-eye patch which helps swelling go down and reduces the appearance of fine lines and wrinkles.